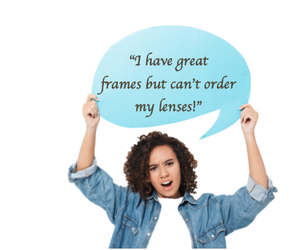 SEND YOUR FRAME FOR RELENSING! NEED HELP ? CALL OR TEXT 34 7 254 1625 MON-SUN 10-8 PM.
Regular price $89.00 Sale
The eyeglass club let's you use your own frame and also recycle your favorite pair of gently used glasses.   We will replace screws, and realign stretched out frames.  Missing or worn down nosepads?  Have us insert fresh clean pads! ($10)
We will send a shipping box to your address.   Please review carefully . We will send you periodic emails about the status of your glasses.  
We operate out of the Strand Pharmacy in Astoria queens.  Patients our welcome to come to our location to shop glasses, lens, get adjustments and repairs, and take our prescription vision test!
MyEyeglassclub.com
(Strand pharmacy)
25-01 Broadway
Astoria NY 11106 
IMPORTANT DISCLOSURE IF YOUR ARE SENDNG US YOUR OWN FRAME:
If your frame is deemed to be in too poor condition to use we will send it back to you and give you the option to select a frame from our selection. Our lab fabricates and inserts thousand of lens every month.  Frame breakages and damage are rare but can and do occur from time to time.  If a breakage or damage occurs we will contact you via phone, send your frame back to you and offer you a replacement from our own selection at no additional cost. You will also be given the option to send us another frame.  At no point will we be financially liable for any breakages, scratches or damage to your frame.  The only customer satisfaction policy we provide for broken frames is the option to select one of our own frames for the lens price cost rather then the complete package cost. 
By mailing your glasses you are understanding and  agreeing to these terms.